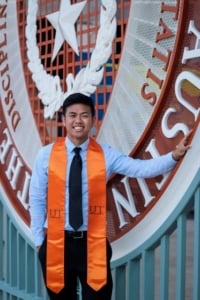 Dallas, TX (August 27, 2019) – Maveneer® is thrilled to welcome Benjamin Yang to our Engineering team. As an Engineering Analyst, Benjamin will contribute to engineering design and concepting efforts, assist in research and development activities, and do whatever is needed to advance solutions required for our Clients' success. Benjamin's experiences across a broad array of academic and technical activities equip him with the attributes needed to be a skilled, flexible, and creative solver of problems for the Maveneer team.
Benjamin is a distinguished recent college graduate from the University of Texas in Austin, earning his Bachelor's in Mechanical Engineering with high honors. He completed an internship at Texas Instruments, as a manufacturing engineer intern, where he furthered his passions for design, testing, and process improvement. He successfully redesigned a tool chamber to reduce the possibility of scrap events and completed testing of new, improved tool parts, resulting in significant cost savings. He has also contributed at a high level to technically advanced automation projects, including the design and fabrication of a fully autonomous vehicle to assist shoppers and warehouse pickers. His energy, ability to learn quickly, and aptitude for solving difficult problems mesh perfectly with Maveneer's relentless effort and passion for improving our Clients' operations.
"Every new Maveneer team member increases our team's intellectual capability, our collective diversity of ideas, and translates to reduced risk and superior supply chain operations for our Clients." said Chad Hallerman, Maveneer CEO and Founder.
About Maveneer
Maveneer is an engineering design firm that specializes in the design and implementation of distribution center and manufacturing operations, both new and retrofit. Our teams possess expertise in industrial process design and industrial automation. We also have the expertise and operations background to successfully implement our recommendations and identify and manage risk along the way, ensuring intended benefits are realized.
We design from a first-principles, "what's the best possible solution" mindset, which results in innovative and cost advantaged operations for our Clients. Often, this means assembling standard methods or technologies in unique ways that provide distinct advantages.
'Business case' is integrated in everything we do.
Contact: info@www.maveneer.com
You may also like
These related articles
Get the latest from Smyle